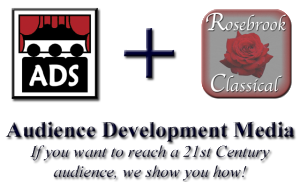 Rosebrook Classical will be co-producing the first Audience Development Webinar Hosted by Audience Development Specialists!
When: 10am-11:30 am Mountain Time, Friday, January 20, 2012
Where: Online!
Who: Shoshana Fanizza, Audience Development Specialists; John Steinmetz: bassoonist, composer, writer, satirist, speaker;
Cost: $25.00
How can we build classical music experiences that will also build our audiences? Participatory performances, designing events with your audience members, using music as a social force, nurturing your audiences, and increasing demand will all be discussed. Register today and join the conversation!