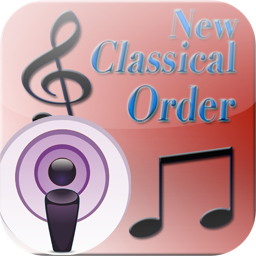 This Episode of The New Classical Order Podcast centers around the wonderfully uplifting subject of Death. Over the centuries there have been countless compositions of all genres and instrumentation that have centered around the "inevitable" subject. Rosebrook Classical's David Weuste and Purdue University's Dr. Jennifer Hund take a look at music on this subject from Mussorgsky through the twenty-first century.
Listen to the episode "Music and Death":
Download this episode and subscribe to the podcast in iTunes!
Music on this Podcast:
Track: Songs and Dances of Death – Serenade
Composer: Modest Mussorgsky
Artist: Dmitri Hvorostovsky, baritone; Valery Gergiev, conductor; Kirov Orchestra
Album: Portrait
Label: Philips
Track: Requiem – Requiem Aeternam
Composer: Alfred Schnittke
Artist: Malena Ernamn, Susanne Carltrom, Annika Eliasson-Frick, Fredrik Bjorlin, Michael Engstrom, Swedish Radio Choir, Magnus Bengtsson
Album: Schittke: Requiem; Gorecki: Miserere
Label: Caprice
Track: Requiem – Requiem Aeternam
Composer: John Rutter
Artist: Dallas Women's Chorus; Turtle Creek Chorale
Album: Rutter: Requiem, Five Anthems
Label: Reference Recordings
Track: Act II, Scene 2: Klinghoffer's death
Composer: John Adams
Artist: John Adams; Kent Nagano
Album: The Death of Klinghoffer
Label: Nonesuch
Track: Death
Composer: Ricky Ian Gordon
Artist: Elizabeth Futral, soprano; Todd Palmer, clarinet;
Album: Orpheus & Euridice
Label: Sh-K-Boom Records
Track: Lacrimosa – Day of Tears
Composer: Zbigniew Preisner
Artist: Elzbieta Towarnicka, soprano; Sinfonia Varsovia, orchestra;
Album: Requiem for My Friend
Label: New Music B.V.
Bonus Track to listen to that we ran out of time for:
Track: Symphony No. 5, Funeral March
Composer: Uri Caine/Gustav Mahler
Artist: Uri Caine Ensemble
Album: Mahler: Urlicht – Primal Light
Label: Winter & Winter
Click to listen on Spotify