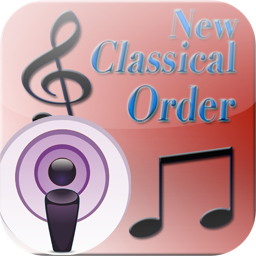 This Episode of The New Classical Order Podcast focuses on film music. Film music has a long history, and with deep roots in many traditions. Rosebrook Classical's David Weuste and Purdue University's Dr. Jennifer Hund explore "Music and the Cinema" from Richard Wagner to the newly released soundtrack from The Artist.
Listen to the episode "Music and the Cinema":
Download this episode and subscribe to the podcast in iTunes!
Music on this Podcast:
Track: "The Ride of the Valkyries"
Composer: Richard Wagner
Artist: Royal Philharmonic Orchestra
Album: Wagner: Overtures and selections
Label: RPO
Track: Neodammerung
Composer: Don Davis
Artist: Don Davis
Album: Matrix Revolutions
Label: Maverick Recording Company
Track: The Young Lady and the Hooligan: The Hooligan
Composer: Dmitri Shostakovich
Artist: Minsk Symphony Orchestra; Walter Mnatsakanov, conductor
Album: The Young Lady and the Hooligan
Label: Delos/Russian Disc
Track: Tara's Theme (Gone from the Wind)
Composer: Max Steiner
Artist: London Philharmonic Orchestra
Album: Academy Award Themes
Label: Intereuro
Track: The Sea Hawk: Main Title-Reunion-Finale (Excerpt)
Composer: Erich Korngold
Artist: Oregon Symphony; James DePreist, conductor
Album: Korngold: The Sea Hawk, Symphony in F-Sharp
Label: Delos
Track: Pirates of the Caribbean: He's a Pirate
Composer: Hans Zimmer
Artist: Klaus Badelt
Album: Pirates of the Caribbean
Label: Walt Disney Records
Track: Star Wars (Main Theme)
Composer: John Williams
Artist: London Philharmonic Orchestra
Album: Academy Award Themes
Label: Intereuro
Track: Estancia, Op. 8 (The Artist)
Composer: Ludovic Bource
Artist: Brussels Philharmonic Orchestra
Album: The Artist (Original Motion Picture Soundtrack)
Label: The Weinstein Company