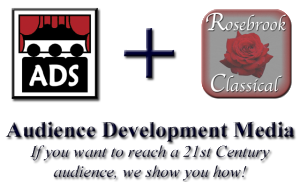 Rosebrook Classical will be co-producing the second Audience Development Webinar Hosted by Audience Development Specialists!
When: Noon Eastern (U.S.), Friday, March 16, 2012
Where: Online!
Who: Shoshana Fanizza, Audience Development Specialists; David Dombrosky: Chief Marketing Office, InstantEncore;
Cost: $25.00

With the rapid adoption of web-enabled cell phones, smartphones and tablet computers, what options are available to arts professionals who want to engage their audiences via mobile devices? How can artists and organizations implement these options cost effectively without taking focus away from the art? Register today and join the conversation!